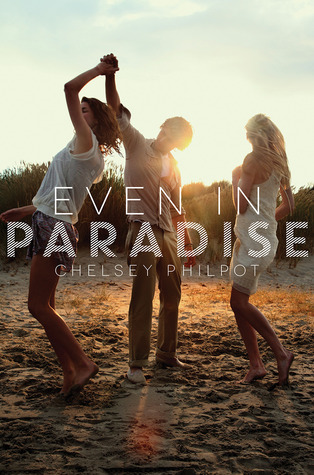 Even in Paradise by Chelsey Philpot

Publishing date:
October 14th 2014
Publisher:
HarperCollins
368 pages
Goodreads | The Book Depository | Amazon
When Julia Buchanan enrolls at St. Anne's at the beginning of junior year, Charlotte Ryder already knows all about the former senator's daughter. Most people do... or think they do.

Charlotte certainly never expects she'll be Julia's friend. But almost immediately, she is drawn into the larger than-life-new girl's world—a world of midnight rendezvous, dazzling parties, palatial vacation homes, and fizzy champagne cocktails. And then Charlotte meets, and begins falling for, Julia's handsome older brother, Sebastian.

But behind her self-assured smiles and toasts to the future, Charlotte soon realizes that Julia is still suffering from a tragedy. A tragedy that the Buchanan family has kept hidden... until now.


What a beautifully written book about friendship, family, love and growing up. I have been in a kind of a reading slump. I have read quite a few books I didn't like, one after another. I'm so glad I decided to pick this one up. Finally a book that I really liked! You know what they say... you can never go wrong with a contemporary. But even thought I did expect to like this book, I was pleasantly surprised by how much I liked it. I definitely didn't expect that much deepness and feelings, I thought this was going to be a cute summer read, but I'm glad it was more than just that.

When Charlie meets Julia Buchanan, she is immediately drawn to that girl. Soon, they become inseparable, the best friends. During the next summer, Charile is invited to visit Julia and come to Arcadia, the place where the Buchanans live. She was impressed with everything, and everyone. It was like she was in paradise and the Buchanans were the royal family. Perfect in her eyes.

There is not much plot here, it's basically just her ongoing life, and that's the best part. It makes it so much more realistic and believable, it's hard not to believe in it. There are so much feelings surrounding this novel. Charlie is just a normal girl, and when she meets Julia, her whole life changes. The Gatsby feeling is so ever present. She gets sucked into the wealth, parties, and their style of life, so much that at first, she doesn't even notice that they're all suffering. That they're hiding something big, and that their family is not whole. They're missing Gus, Julia's older sister.
"So self-assured were they all by nature that it never occurred to me to doubt that their perfection was predetermined by forces I did not understand. They were all royalty. They were all gods. They were all broken."
It's hard not to fall in love with the Buchanans. They're a big family, they're close to each other and they have each others backs no matter what. To let someone else inside the way they did, Charlie, it's not easy for anyone, but they did and they all really cared about Charlie. And Charlie felt the same way about them. Maybe Julia was her best friend, and Julia's brother Sebastian was her boyfriend, but she cared about them all, deeply.
"I could not tell you now, or really ever who I loved more - only that I did love her, and him, and them all with a fierceness that I didn't know I was possible. They say there is nothing like your first love, but they have little to say about loving two people at the same time - or an entire family."
I don't have much left to say about Even in Paradise, except that it was truly a remarkable read and you'll just have to experience it for yourselves. Friendship that is hard as a rock, a love that is bittersweet, and life that is surreal. I believe this book may appeal to fans of My Life Next Door by Hunteley Fitzpatrick, so if you liked that one, you should give Even in Paradise a try.