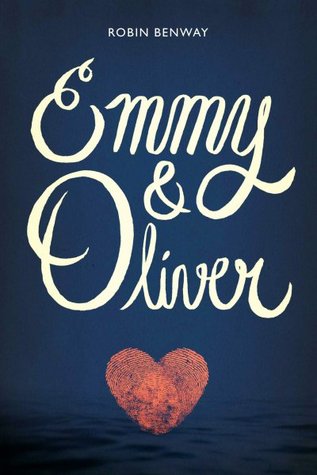 Emmy & Oliver
by Robin Benway
Publishing date:
June 23rd 2015
Publisher:
HarperTeen
352 pages
Goodreads | The Book Depository | Amazon
Emmy's best friend, Oliver, reappears after being kidnapped by his father ten years ago. Emmy hopes to pick up their relationship right where it left off. Are they destined to be together? Or has fate irreparably driven them apart?

Emmy just wants to be in charge of her own life.

She wants to stay out late, surf her favorite beach—go anywhere without her parents' relentless worrying. But Emmy's parents can't seem to let her grow up—not since the day Oliver disappeared.

Oliver needs a moment to figure out his heart.

He'd thought, all these years, that his dad was the good guy. He never knew that it was his father who kidnapped him and kept him on the run. Discovering it, and finding himself returned to his old hometown, all at once, has his heart racing and his thoughts swirling.

Emmy and Oliver were going to be best friends forever, or maybe even more before their futures were ripped apart. In Emmy's soul, despite the space and time between them, their connection has never been severed. But is their story still written in the stars? Or are their hearts like the pieces of two different puzzles—impossible to fit together?

Readers who love Sarah Dessen will tear through these pages with hearts in throats as Emmy and Oliver struggle to face the messy, confusing consequences of Oliver's father's crime. Full of romance, coming-of-age emotion, and heartache, these two equally compelling characters create an unforgettable story.
I really had no idea what book I was going to read next, and then Shannon from
It Starts at Midnight
suggested I read
Emmy & Oliver
next because she liked it a lot. So I did. I mean I had an arc copy and everything, so why not just read it now? It is also coming out, like tomorrow. So I did, read it. And like it, I did.
Emmy and Oliver have been friends from the day they were born - yes, they even share a birthday. Until one day Oliver was picked up from school by his dad, only to never come back. He was missing for 10 years. While everyone around Emmy was adjusting to Oliver being gone, nobody thought about the adjusting that will be necessary once Oliver returned home. Now that he's back, nothing is normal again, the question is will Emmy and Oliver be able to pick up from where they left?

I expected this book to be a little heavier considering the subject it's dealing with, so I was really surprised to find out I liked this approach much better. It captured all the feels, all the wrongness, the pity, the doubt and so much more, all that while having a lighter approach to the subject. It showed us perfectly how every side dealt with the kidnapping and its aftermaths. From Oliver's mother to Emmy, her parents and friends and Oliver.

Oliver being abducted by his father at the age of 7 did not only affect his family, but Emmy's too. It's every parent's worst nightmare having their child kidnapped and having it happen to someone you know may change the way you feel about things drastically. Emmy's parents went into overprotective mode. They pretty much controlled every single aspect of her life, to the point she had to lie to them about surfing - because it was too dangerous - and numerous other little things.

Since the book is told from Emmy's point of view, we only get to find out things about Oliver through her and their interactions. But it does nothing to make it easier for us. We still feel deeply for him. Being kidnapped by his dad at the young age and thinking all of those 10 years that his mother actually abandoned him and then finding out the truth, can't be easy for anyone. On the one hand you have your mother who has always cared for you and wanted you back, on the other hand, there's you dad who pretty much raised you and also cared for you. It's this dilemma that makes it so real.

If you decide to pick Emmy & Oliver up, I can assure you that you will most likely enjoy this book and you'll be wanting more.