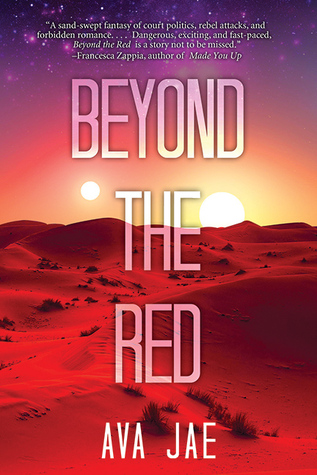 Beyond the Red
by Ava Jae
Publishing date:
March 1st 2016
Publisher:
Sky Pony Press
360 pages
Goodreads | The Book Depository | Amazon
Alien queen Kora has a problem as vast as the endless crimson deserts. She's the first female ruler of her territory in generations, but her people are rioting and call for her violent younger twin brother to take the throne. Despite assassination attempts, a mounting uprising of nomadic human rebels, and pressure to find a mate to help her rule, she's determined to protect her people from her brother's would-be tyrannical rule.

Eros is a rebel soldier hated by aliens and human alike for being a half-blood. Yet that doesn't stop him from defending his people, at least until Kora's soldiers raze his camp and take him captive. He's given an ultimatum: be an enslaved bodyguard to Kora, or be executed for his true identity—a secret kept even from him.

When Kora and Eros are framed for the attempted assassination of her betrothed, they flee. Their only chance of survival is to turn themselves in to the high court, where revealing Eros's secret could mean a swift public execution. But when they uncover a violent plot to end the human insurgency, they must find a way to work together to prevent genocide.

I am really unsure of how I felt about Beyond the Red. I guess I did like it to some extent, but there were a lot of things that bothered me and I wasn't a huge fan of them. To start it off, I thought this was going to be an EPIC SCI-FI book. I mean it's on another planet and it has ALIENS, so it had to be sci-fi. Yes, I thought it had an epic vibe, but more on the EPIC FANTASY side. Yes, you read that right. Maybe it was just me, but Beyond of Red has kings, queens, slaves, rebels, battles, castles. In my mind, I was imagining it all in kind of Egyptian medieval style (is that even a period? - okay, you know what I mean). Maybe it did have some sci-fi elements like nanites technology and cool and unusual animals, but that's about it.

After the Sepharon aliens under the lead of Kora attack a human desert village, many of the humans end up as slaves. Among them is also Eros, a half-human, half-Sepharon guy, who seems to be despised by the both sides. Since the things aren't perfect in the territory of Elja and the people aren't satisfied with their queen Kora, she makes Eros her personal guard/slave to protect her from her evil brother who wants the throne all for himself. But when someone tries to poison Koras betrothed and they're accused of the crime, they have to flee and maybe face even bigger danger outside.

There are not actually much things that I liked in this book, but one of them was that it was fast paced and I kinda seemed to just fly through it even though I didn't enjoy a lot of things. I just kept turning the pages and hoping it would get better - but it never did. Yes, it was fast paced and there was a lot of action and you just wanted to know what happens next - even though if the things were really predictable - but there was always that little voice in my head that kept whispering all the things that bother me and I just couldn't overlook them.

Beyond the Red is one of those sci-fi/fantasy books that just starts from nowhere and the whole time you're wondering what the heck is happening, who is who, where are they, what is it that they do. I mean we do get a little bit of information, but as I read one thought was constantly on my mind. This book needs more world building, I have just too many questions. And just to fill you in, half of those weren't even answered later in the book.

Another thing - or is it better to say another person - that bothered me to no end was Kora, our queen. She was supposed to be this fierce and strong ruler, or at least, that's how she is described. But all I have seen from Kora through the book is that she was quite the opposite from fierce. Her brother had his way with her and she did nothing to stop him, her people wanted to throw her off the throne, and she did nothing to stop it, she couldn't even utter one word when it came to defending an innocent person. She was the fucking queen, she should have at least tried doing something.

There's one more thing I want to mention. Love. Which also isn't quite the best in Beyond the Red. We have our love interests, Eros and Kora. Everything between them happens so fast (insta, if you're wondering). Almost immediately, they're on first name basis. That wouldn't be so weird if she weren't the alien queen, and he despised half-blood slave. Then they're kissing. And then, everything between them stops altogether. This is where the even-more-insta-love-triangle starts. Kora is to marry one of the royals, who just happens to fall in love with her in just a few days. Talk about weird. I had a feeling the author wanted to accomplish many things, but she just ended up ruining everything. Dear authors, please notice our plea - anything insta is never good.

I wanted to give Beyond the Red 2.5 stars, but since I don't do half stars, I had to round it up. This is where the real struggle comes in. Do I round it up or down? Originally, I gave it 3 stars, but after I slept on it, I decided it is more 2 stars than it is 3. Yes, I did like the plot to some extent. You could maybe even say that I enjoyed the plot, but the rest of the book just felt "meh". There was nothing else worthy of good in this book.

The ending alone was done really abrupt and it's not even sure if there's going to be the next book. I think I saw somewhere that the author said it depends on sales. I guess we'll see, even though I'm not really sure if I am going to be reading the sequel even if there is one. I mean, why would you end your book this open, if you're not even sure there's going to be the next one? That's just kinda mean.

And to answer this, would I recommend this book? Probably not, no.

What is your take on this one?