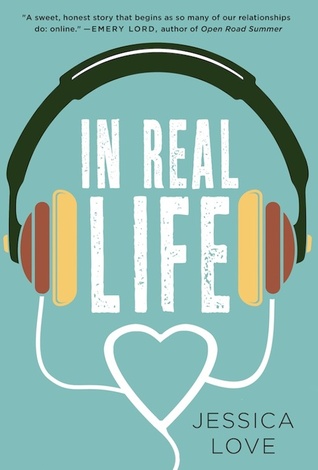 In Real Life
by Jessica Love
Publishing date:
March 1st 2016
Publisher:
St. Martin's Griffin
240 pages
Goodreads | The Book Depository | Amazon
Hannah Cho and Nick Cooper have been best friends since 8th grade. They talk for hours on the phone, regularly shower each other with presents, and know everything there is to know about one another.

There's just one problem: Hannah and Nick have never actually met.

Hannah has spent her entire life doing what she's supposed to, but when her senior year spring break plans get ruined by a rule-breaker, she decides to break a rule or two herself. She impulsively decides to road trip to Vegas, her older sister and BFF in tow, to surprise Nick and finally declare her more-than-friend feelings for him.

Hannah's romantic gesture backfires when she gets to Vegas and meets Nick's girlfriend, whom he failed to mention. And it turns out his relationship status isn't the only thing he's been lying to her about. Hannah knows the real Nick can't be that different from the online Nick she knows and loves, but now she only has one night in Sin City to figure out what her feelings for Nick really are, all while discovering how life can change when you break the rules every now and then.

I was sold as soon as I read the words: never meet, roadtrip & Vegas. Firstly, I love the books that feature any kind of not your usual romance. Be it forbidden, be it they've never met in real life or anything along those lines, I'll probably want to read it because I'll probably like it. Secondly, it has roadtrip. I LOVE ROADTRIP BOOKS! I love travelling, so I'm always looking to read books that feature some cool places. Which lastly, brings me to Las Vegas. I love Vegas, or at least, the idea of Vegas - I've never actually been there. Immediately, this reminded me of The Secret Diamond Sisters, which was also set in Vegas. It described The Strip and all that Vegas glamour in so many details you had a feeling you are actually there. In Real Life didn't go so deep, but it also captured Vegas in all it's glory.

Hannah, aka Ghost and Nick, are best friends for four years, but they have never actually met. They talk online or on the phone. Hannah sister and Nick's brother have met at a concert and had a great idea that their siblings should also be friends, so Hannah and Nick really did start talking, but they've never met in real life. They haven't really made any plans to meet in person. They did once, but those plans didn't go as planned. Until now, they have never spoken of it again. Nick is having his first big concert with the band, and since it's spring break and Hannah doesn't really have any plans except to chill at the pool, she, her sister and her best friend decide they will roadtrip to Vegas and surprise Nick at his concert. It is a great plan, but some things you cannot plan.

What I really loved about this book - except all those things I already mentioned at the beginning - is how real the relationship between Nick and Hannah really is. It's a popular topic these days, online love. What with Catfish and all. But the truth is, Hannah did trust Nick and she loved him, but there was always this little thing at the back of her mind. Is he telling the truth, can she trust him. And when they finally meet, it is done amazingly. All the little secrets are now out in the open, and they still have to learn how to behave with each other so close. They do know one other, but In Real Life is like a completely new dimension to them. Most of the little quirks and face expressions are foreign to them, and now they have to learn how to process them.

I really liked both Hannah and Nick. Hannah is from a strict Korean family, and all she knew her whole life is study, obey her parents wishes and be good. She never did something she thinks they would disapprove. Until the day, she decided to go see Nick. Even though she knew they were against it, she finally decided to live the life a little and do what she wants. There were times where she frustrated me to no end, like when she had to tell Nick about her feelings, but she never did. I wanted to strangle her, but then again, I understood why she behaved the way she did. She's used to safe, and telling him her feelings wasn't safe zone anymore and she was scared. But then again, I really like the way they ended up together. It was bumpy, there were lies, but at the end, it's what made it real.

To say I really liked this book would be an understatement. I freakin' LOVED IT! This you guys, is Catfish, but with a good ending. You definitely need to add this book to your 2016 TBR list. If you want to read an amazing contemporary novel, that is.

Are you as excited about this book as I am? Do you like watching Catfish?