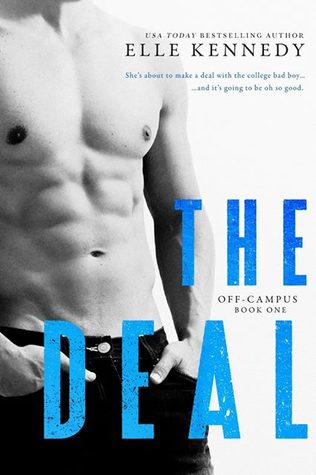 The Deal (Off-Campus, #1)
by Elle Kennedy
Publishing date:
February 24th 2015
358 pages
Goodreads | The Book Depository | Amazon
She's about to make a deal with the college bad boy...

Hannah Wells has finally found someone who turns her on. But while she might be confident in every other area of her life, she's carting around a full set of baggage when it comes to sex and seduction. If she wants to get her crush's attention, she'll have to step out of her comfort zone and make him take notice... even if it means tutoring the annoying, childish, cocky captain of the hockey team in exchange for a pretend date.

...and it's going to be oh so good.

All Garrett Graham has ever wanted is to play professional hockey after graduation, but his plummeting GPA is threatening everything he's worked so hard for. If helping a sarcastic brunette make another guy jealous will help him secure his position on the team, he's all for it. But when one unexpected kiss leads to the wildest sex of both their lives, it doesn't take long for Garrett to realize that pretend isn't going to cut it. Now he just has to convince Hannah that the man she wants looks a lot like him.
So, I've been seeing this book A LOT lately. I'm probably the last one of my friends to read it, so yeah, since everyone already read it and loved it, I decided I really had to read it then.

I went into reading it meaning to read 3 chapters tops since it was already 12 am and I had to get my beauty sleep, but instead I ended up reading the whole book in one sitting (I finished around 5 am) and looked like a zombie the whole next day. But lesson learned: Don't start reading Elle's books if you don't have time to finish them in one sitting. That's just how amazing I thought this book was.

When Hannah gets an A in one of her exams, she doesn't even realize how that one grade is going to change her life. Enter Garrett. He failed the same exam and wants Hannah to tutor him, and in exchange he'll help her make a guy she likes jealous. But, while tutoring Garrett, they discover there's an undeniable attraction between the two, but will they act on it? Or will Hannah continue to persuade the guy she likes?

The plot itself isn't what's best in this book. Actually, it is full of standard things you'll find in almost every New Adult book. We have a hot jock who plays some kind of popular sport for college, we have the kinda shy nerd girl who's not that noticeable and they fall in love. Of course, they both have some kind of troubled past like abuse or rape. We even have the pretend boyfriend and tutor turned girlfriend thing going on, but not even all those cliche things could do nothing on how much I loved the book!

You see, the real gem in this book are its characters. I just LOVED Garrett !!! He entered my list of book boyfriends as #1 like a champion, and that says a lot since there are so many guys from the bookish worlds that I love. He's just so real, and that's what I love most about him. I could picture him clearly like a normal person and not just some figment of my imagination. He's a player, but he's also the sweetest, cutest and most dedicated person. He'll always say or do the right thing. And before you know it, you just desperately wish you're able to go online and just purchase one of Garrett's for yourself.

The romance between Garrett and Hannah was just right kind of slow-burning, keeps-you-wanting-more, do-it-already kind of romance. In other words, perfect. The chemistry between them, their constant bickering and how much stubborn both of them were, are my absolute favorite things. I really liked the pacing too. It was just the right amount of excitingness, hotness and everything else overall.

If you are one of those few people who still haven't read The Deal, you should really think about doing so. Especially so if you liked All Lined Up by Cora Carmack or The Edge of Never by J.A. Redmerski. One thing is for sure. From now on I have Elle Kennedy on my radar, and I'll be watching for new releases very closely, as well as reading her other NA books.

Are you one of those who has yet to read The Deal? If not, did you like it?