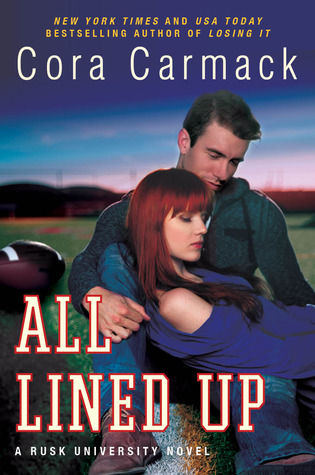 All Lined Up (Rusk University #1)
by Cora Carmack
Publishing date:
May 13th 2014
Publisher:
William Morrow
320 pages
Goodreads | The Book Depository | Amazon
In Texas, two things are cherished above all else—football and gossip. My life has always been ruled by both.

Dallas Cole loathes football. That's what happens when you spend your whole childhood coming in second to a sport. College is her time to step out of the bleachers, and put the playing field (and the players) in her past.

But life doesn't always go as planned. As if going to the same college as her football star ex wasn't bad enough, her father, a Texas high school coaching phenom, has decided to make the jump to college ball… as the new head coach at Rusk University. Dallas finds herself in the shadows of her father and football all over again.

Carson McClain is determined to go from second-string quarterback to the starting line-up. He needs the scholarship and the future that football provides. But when a beautiful redhead literally falls into his life, his focus is more than tested. It's obliterated.

Dallas doesn't know Carson is on the team. Carson doesn't know that Dallas is his new coach's daughter.

And neither of them know how to walk away from the attraction they feel.

I'm not sure how Cora Carmack does it, but whenever I read a book written by her, I can't seem to stop reading it! If I really have to stop reading and then continue later, I can't stop thinking about the characters or about the book in the time when I'm not reading. Just like with Losing It books, I'm sure that Rusk University books are going to be high on my favorites!

All Lined Up is told in two POVs following Dallas and Carson as our main characters. Dallas is freshmen at Rusk University. With her dad being a football coach, she grew up with it. Until now, her dad was always coach for high school teams, but this year he decided to move up to coaching a University team. No less, but the very same University Dallas goes to. Too make things even worse, her ex-boyfriend Levi is the lead quarterback at the Rusk University football team. While attending a fraternity party her best friend Stella dragged her to, she literally falls into Carson's lap while trying to get away from Levi and one other guy. The connection between them is instant. You can see sparks flying all around. But after that night the two decide to just stay friends because Carson is the second string quarterback and has to focus on football and getting the scholarship.

While I am not a fan of American football and have absolutely NO IDEA what is going on there, I have actually enjoyed it as an element here. Usually, when I see there is football in a book, I tend to stay away and not even glance at that book, but with All Lined Up being written by Cora, I knew I at least had to give it a try. So all you non US people, like myself, if American football scares you, give this book a try and you maybe end up liking it in the end!

"I will never be in that position again. I will never be the person who cares more, because that person is always the one who hurts more."

We already know that Cora has mastered romance in her novels, and All Lined Up is no different. She did it well! What starts like a slow romance, with a lot of chemistry and a bit of banter, turns out into finding the truth, accepting themselves and finding love.

To sum it up, All Lined Up is one of my favorite reads this year, and I'm sure it will appeal to all the lovers of New Adult Contemporary novels!