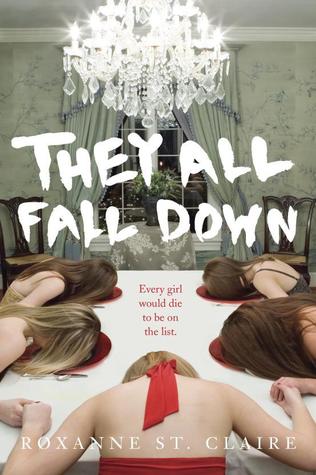 They All Fall Down
by Roxanne St. Claire

Publishing date:
October 14th 2014
Publisher:
Delacorte Press
256 pages
Goodreads | The Book Depository | Amazon
Pretty Little Liars meets Final Destination in this YA psychological thriller that will have readers' hearts racing right till the very end!

Every year, the lives of ten girls at Vienna High are transformed.

All because of the list.

Kenzie Summerall can't imagine how she's been voted onto a list of the hottest girls in school, but when she lands at number five, her average life becomes dazzling. Doors open to the best parties, new friends surround her, the cutest jock in school is after her.

This is the power of the list. If you're on it, your life changes.

If you're on it this year? Your life ends

I was a little afraid to pick this one up as the description says
"Pretty Little Liars meets Final Destination"
. I'm glad I didn't think this book had much in common with PLL because after
Get Even by Gretchen McNeil
, I don't think I'd be able to handle it. I liked that it had a Final Destination feel, but for me, it was more like a mix between
The List by Siobhan Vivian
and R.L. Stine's Fear Street books. But nonetheless, it was a thrilling ride from the start, and I'm happy I got to be on it.
Our main character, Kenzie Summerall, was a normal girl, a bit of a nerd with a high passion for a dead language, Latin. She had overprotective parents and she just wanted to get a scholarship so she can get away from them and go to a nice college. But then the "The Hottie List" happens and out of ten girls who made the list, she is placed fifth! She starts getting attention from everyone, and among them is Josh, a guy who she had a crush on. There is also Levi, a guy who she shouldn't like but she feels drawn to him even though everybody is warning her about him. But then, the girls who made the list start dying in unexplainable accidents, and as it seems, they're dying in order they were on the list. Kenzie has to figure out what is happening, because she's fifth and it's almost her turn.
I know this book may seem a little bit of a cliche with a love triangle, but it's really not like that. Yes, there are two guys, but it's clear from the start were it is heading. I even really LIKED the romance even though I don't usually like when there's more then one guy in play. But the book itself was really great! From the moment you start reading
They All Fall Down
you get sucked into the story, the excitement, the mystery... and I just couldn't PUT THE BOOK DOWN! The book kept me guessing things all the time and I was trying to figure out what is happening and who the villain is. Every now and then we'd get a twist and I'd be back to square one with my guessing. It's what made this book so amazing! The mystery behind the book is just so addicting!
Another thing that needs mentioning is the cover! I realized while I was discussing it with my friend Zemira from
YA Fanatic
that we both thought it was blood surrounding girls heads, BUT GUYS, IT'S THE RED DISHES!!! How freaking genius is that?? Big props for the cover, Delacorte Press!
All in all, as you can conclude from my review, I really enjoyed the book! I'm not a big fan of a mystery novels, but
They All Fall Down
managed to keep me interested the whole time! So, if you're looking for a quick, fun mystery book, you can't go wrong with
They All Fall Down
. It's a perfect read for the upcoming Helloween!

You can enter to win a FINISHED copy of
They All Fall Down
, which will be sent to you by the awesome publisher! [US OLNY!]
a Rafflecopter giveaway