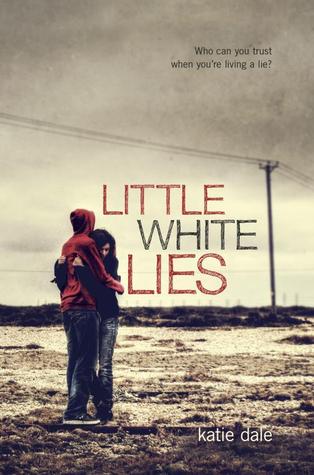 Little White Lies
by Katie Dale

Publishing date:
December 9th 2014
Publisher:
Delacorte Press
384 pages
Goodreads | The Book Depository | Amazon
Fans of Pretty Little Liars will be ensnared in this tale of deceit.

The first time Lou meets mysterious Christian, she knows he is The One. But Christian is hiding a terrible secret. Why does he clam up every time Lou asks about his past? Why doesn't he have any family photos, and why does he dye his blond hair black? When Christian's house goes up in flames, his tires are slashed, and he flees for his life, Lou insists on going with him. But as Christian's secret is unveiled in front of the whole world, it seems everything he's ever told Lou is a lie. Can what the media are saying about him really be true? Should Lou trust him? Or is she in grave danger? And what if their accidental meeting wasn't an accident at all...?


Finally a mystery book done right! Little White Lies was everything I hoped it would be, and even more. I wouldn't say for myself that I'm a fan of mystery books, but I think it's mostly because so very few of them manage to really keep you guessing throughout the whole book. Little White Lies did exactly that.

When Lou starts college, she's not like every other freshman, she has a new identity and she's constantly living in fear that someone might recognize her and reveal her true identity. Then, she meets Christian, a guy who's even more reluctant to share things about his life than she is. This of course, peeks her curiosity and she's determined to find out more about him. But who is laying to whom? And what happens when everyone has their own secrets and things just get more and more confusing. A tangled web of Little White Lies.

This book may be a mystery, but it is also so much more. A roller coaster of emotions. There is so much lies and secrets, guilt and judgement, innocence and forgiveness. And love. Even when the truth was told, there were so much lies around that it was hard to decide who is telling the truth and who is trying to keep their head alive and free. Those were the moments when trust was of great importance. Deciding whom to trust was crucial.

Because of all those things, this book was full of adrenaline, fast paced and there are twists and turns on every other page. It was hard to put it down when the time for sleeping came. The mystery will keep you guessing and wanting more. You'll be trying to figure it out, but it'll be hard to work with what little information you have and without knowing if it's the truth or just one of the lies. Katie Dale really has a gift of creating a mystery perfect in every sense.

For me, the characters are the weakest point of this book. I'm not saying I had a problem with any of the characters, I actually liked them, but I don't think they were rememberable. If you ask me in a few months time, I don't think I'm going to remember who Lou or Christian were, much less Vix or Kenny.

This being said, Little White Lies is a perfect read for any mystery lover. And even those who don't find themselves in the last sentence, if you give this book a try, you may end up linking it just like I did. You never know until you read something.


Do you enjoy mystery novels? Do you think you'd enjoy Little White Lies?