There are quite a few good books coming out this Spring, but here is my pick of 10 books that I think you shouldn't miss and not read. There is no order, I've just randomly picked them and put them in a list.
1. Outrun the Moon by Stacey Lee
Goodreads | Amazon | TBD
May 24th 2016 by G.P. Putnam's Sons Books for Young Readers
San Francisco, 1906: Fifteen-year-old Mercy Wong is determined to break from the poverty in Chinatown, and an education at St. Clare's School for Girls is her best hope. Although St. Clare's is off-limits to all but the wealthiest white girls, Mercy gains admittance through a mix of cunning and a little bribery, only to discover that getting in was the easiest part. Not to be undone by a bunch of spoiled heiresses, Mercy stands strong—until disaster strikes.

On April 18, an historic earthquake rocks San Francisco, destroying Mercy's home and school. With martial law in effect, she is forced to wait with her classmates for their families in a temporary park encampment. Mercy can't sit by while they wait for the Army to bring help. Fires might rage, and the city may be in shambles, yet Mercy still has the 'bossy' cheeks that mark her as someone who gets things done. But what can one teenaged girl do to heal so many suffering in her broken city?

This book sounds really amazing. I am a big fan of historical fiction, and this story sounds refreshing, so we'll see how it turns out.
2. The Star-Touched Queen by Roshani Chokshi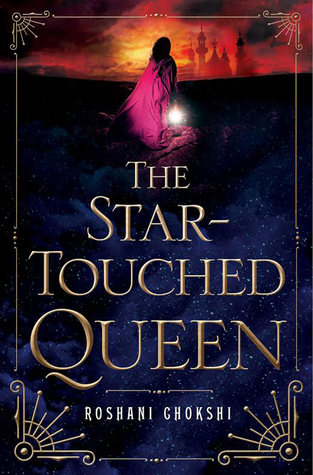 Goodreads | Amazon | TBD
April 26th 2016 by St. Martin's Griffin
Cursed with a horoscope that promises a marriage of Death and Destruction, sixteen-year-old Maya has only earned the scorn and fear of her father's kingdom. Content to follow more scholarly pursuits, her world is upheaved when her father, the Raja, arranges a wedding of political convenience to quell outside rebellions. But when her wedding takes a fatal turn, Maya becomes the queen of Akaran and wife of Amar. Yet neither roles are what she expected. As Akaran's queen, she finds her voice and power. As Amar's wife, she finds friendship and warmth.

But Akaran has its own secrets - thousands of locked doors, gardens of glass, and a tree that bears memories instead of fruit. Beneath Akaran's magic, Maya begins to suspect her life is in danger. When she ignores Amar's plea for patience, her discoveries put more than new love at risk - it threatens the balance of all realms, human and Otherworldly.

Now, Maya must confront a secret that spans reincarnated lives and fight her way through the dangerous underbelly of the Otherworld if she wants to protect the people she loves.

Inspired by Indian mythology.

This one sounds magical. I am really excited to see how big of a role Indian mythology plays in the book.
3. Heir to the Sky by Amanda Sun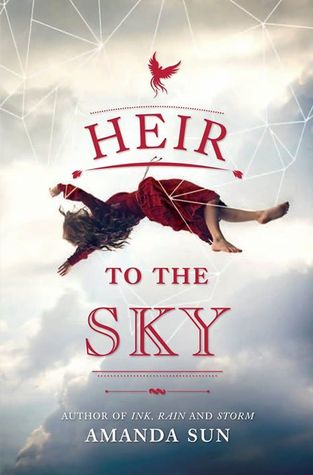 Goodreads | Amazon | TBD
April 26th 2016 by Harlequin TEEN
As heir to a kingdom of floating continents, Kali has spent her life bound by limits—by her duties as a member of the royal family; by a forced betrothal to the son of a nobleman; and by the edge of the only world she's ever known—a small island hovering above a monster-ridden earth, long since uninhabited by humans. She is the Eternal Flame of Hope for what's left of mankind, the wick and the wax burning in service for her people, and for their revered Phoenix, whose magic keeps them aloft.

When Kali falls off the edge of her kingdom and miraculously survives, she is shocked to discover there are still humans on the earth. Determined to get home, Kali entrusts a rugged monster-hunter named Griffin to guide her across a world overrun by chimera, storm dragons, basilisks, and other terrifying beasts. But the more time she spends on earth, the more dark truths she begins to uncover about her home in the sky, and the more resolute she is to start burning for herself.

I want this one to be amazing so bad. It's pity that eary reviews are not as positive as I was hoping they would be, but I still have hope for it.
4. Dreamology by Lucy Keating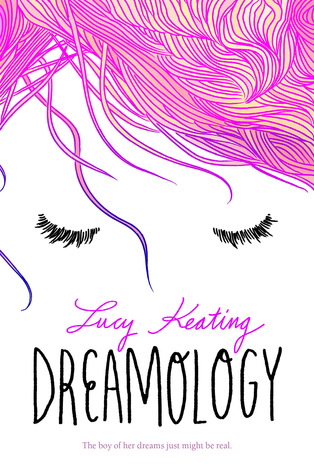 Goodreads | Amazon
April 12th 2016 by Harper Teen
For as long as Alice can remember, she has dreamed of Max. Together they have traveled the world and fallen deliriously, hopelessly in love. Max is the boy of her dreams—and only her dreams. Because he doesn't exist.

But when Alice walks into class on her first day at a new school, there he is. It turns out, though, that Real Max is nothing like Dream Max, and getting to know each other in reality isn't as perfect as Alice always hoped.

When their dreams start to bleed dangerously into their waking hours, the pair realize that they might have to put an end to a lifetime of dreaming about each other. But when you fall in love in your dreams, can reality ever be enough?

I don't know why, but I am in LOVE with this book cover. Do you agree with me? Also, the story seams interesting too. It's that kind of book where you can't really say what genre it is, fantasy or contemporary, but it better be good!
5. When We Collided by Emery Lord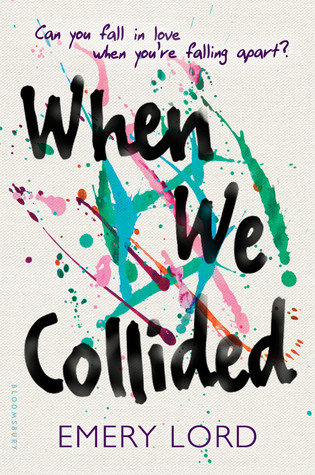 Goodreads | Amazon | TBD
April 5th 2016 by Bloomsbury USA Childrens
Meet Vivi and Jonah: A girl and a boy whose love has the power save or destroy them.

Vivi and Jonah couldn't be more different. Vivi craves anything joyful or beautiful that life can offer. Jonah has been burdened by responsibility for his family ever since his father died. As summer begins, Jonah resigns himself to another season of getting by. Then Vivi arrives, and suddenly life seems brighter and better. Jonah is the perfect project for Vivi, and things finally feel right for Jonah. Their love is the answer to everything. But soon Vivi's zest for life falters, as her adventurousness becomes true danger-seeking. Jonah tries to keep her safe, but there's something important Vivi hasn't told him.

I am absolutely positive I am going to love this one! I've read Emery's two previous books and I just love her writing style. Can't wait to get my hands on this one!
6. Wanderlost by Jen Malone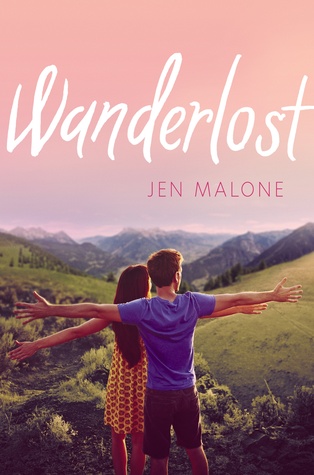 Goodreads | Amazon | TBD
May 31st 2016 by HarperTeen
Not all those who wander are lost, but Aubree Sadler most definitely is on this novel's whirlwind trip through Europe.

Aubree can't think of a better place to be than in perfectly boring Ohio, and she's ready for a relaxing summer. But when her older sister, Elizabeth, gets into real trouble, Aubree is talked into taking over Elizabeth's summer job, leading a group of senior citizens on a bus tour through Europe.

Aubree doesn't even make it to the first stop in Amsterdam before their perfect plan begins unraveling, leaving her with no phone, no carefully prepared binder full of helpful facts, and an unexpected guest: the tour company owner's son, Sam. Considering she's pretending to be Elizabeth, she absolutely shouldn't fall for him, but she can't help it, especially with the most romantic European cities as the backdrop for their love story.

But her relationship with Sam is threatening to ruin her relationship with her sister, and she feels like she's letting both of them down. Aubree knows this trip may show her who she really is—she just hopes she likes where she ends up.

Here's a little secret guys. I have already read this one and LOVED it! It may be my favorite road-trip book so far, and that's saying a lot about how good this book is. Wait patiently for it to come out, and then read it the first chance you got!
7. Ruined by Amy Tintera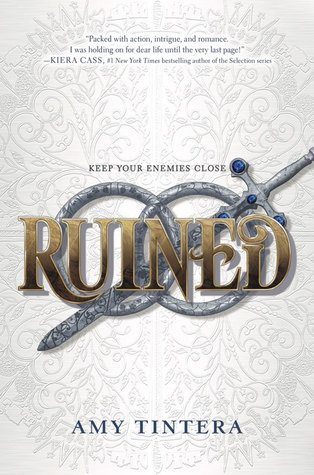 Goodreads | Amazon | TBD
May 3rd 2016 by HarperTeen
Emelina Flores has nothing. Her home in Ruina has been ravaged by war. She lacks the powers of her fellow Ruined. Worst of all, she witnessed her parents' brutal murders and watched helplessly as her sister, Olivia, was kidnapped.

But because Em has nothing, she has nothing to lose. Driven by a blind desire for revenge, Em sets off on a dangerous journey to the enemy kingdom of Lera. Somewhere within Lera's borders, Em hopes to find Olivia. But in order to find her, Em must infiltrate the royal family.

In a brilliant, elaborate plan of deception and murder, Em marries Prince Casimir, next in line to take Lera's throne. If anyone in Lera discovers Em is not Casimir's true betrothed, Em will be executed on the spot. But it's the only way to salvage Em's kingdom and what is left of her family.

Em is determined to succeed, but the closer she gets to the prince, the more she questions her mission. Em's rage-filled heart begins to soften. But with her life—and her family—on the line, love could be Em's deadliest mistake.

Amy Tintera is another author whose books I loved. Reboot & Rebel will always be one of my favorites. I know Amy can write a good dystopia book, now we'll find out how is she with fantasy. If I could bet on it, I'd say good.
8. The Unexpected Everything by Morgan Matson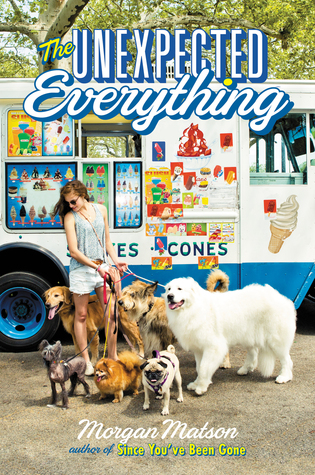 Goodreads | Amazon | TBD
May 3rd 2016 by Simon & Schuster
Andie had it all planned out.

When you are a politician's daughter who's pretty much raised yourself, you learn everything can be planned or spun, or both. Especially your future.

Important internship? Check.

Amazing friends? Check.

Guys? Check (as long as we're talking no more than three weeks)

But that was before the scandal. Before having to be in the same house with her dad. Before walking an insane number of dogs. That was before Clark and those few months that might change her whole life.

Because here's the thing - if everything's planned out, you can never find the unexpected.

And where's the fun in that?

So far, I have only read one book by Morgan Matson, but I can tell she is an amazing writer. Really excited to see how this one goes. Got to have a cute book on a list!
9. The Crown's Game by Evelyn Skye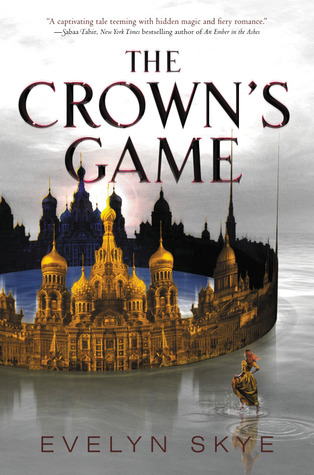 Goodreads | Amazon | TBD
May 17th 2016 by Balzer + Bray
Vika Andreyeva can summon the snow and turn ash into gold. Nikolai Karimov can see through walls and conjure bridges out of thin air. They are enchanters—the only two in Russia—and with the Ottoman Empire and the Kazakhs threatening, the Tsar needs a powerful enchanter by his side.

And so he initiates the Crown's Game, an ancient duel of magical skill—the greatest test an enchanter will ever know. The victor becomes the Imperial Enchanter and the Tsar's most respected adviser. The defeated is sentenced to death.

Raised on tiny Ovchinin Island her whole life, Vika is eager for the chance to show off her talent in the grand capital of Saint Petersburg. But can she kill another enchanter—even when his magic calls to her like nothing else ever has?

For Nikolai, an orphan, the Crown's Game is the chance of a lifetime. But his deadly opponent is a force to be reckoned with—beautiful, whip smart, imaginative—and he can't stop thinking about her.

And when Pasha, Nikolai's best friend and heir to the throne, also starts to fall for the mysterious enchantress, Nikolai must defeat the girl they both love... or be killed himself.

As long-buried secrets emerge, threatening the future of the empire, it becomes dangerously clear... the Crown's Game is not one to lose.

I am not a big fan of the cover, but the story does sound amazing, so we'll see, but somehow I have a feeling this one is going to be big hit this year.
10. Girl Against the Universe by Paula Stokes
Goodreads | Amazon
May 17th 2016 by HarperTeen
Maguire is bad luck.

No matter how many charms she buys off the internet or good luck rituals she performs each morning, horrible things happen when Maguire is around. Like that time the rollercoaster jumped off its tracks. Or the time the house next door caught on fire. Or that time her brother, father, and uncle were all killed in a car crash—and Maguire walked away with barely a scratch.

It's safest for Maguire to hide out in her room, where she can cause less damage and avoid meeting new people who she could hurt. But then she meets Jordy, an aspiring tennis star. Jordy is confident, talented, and lucky, and he's convinced he can help Maguire break her unlucky streak. Maguire knows that the best thing she can do for Jordy is to stay away. But it turns out staying away is harder than she thought.

From author Paula Stokes comes a funny and poignant novel about accepting the past, embracing the future, and learning to make your own luck.

Yup, another contemporary, but bare with me. You know I love my contemporaries. :)
Are you excited for some of the books from this list? Which ones? What other books do you want to read this spring that weren't mentioned here?