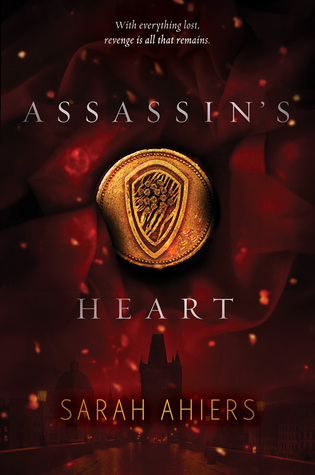 Assassin's Heart (Assassin's Heart #1)
by Sarah Ahiers
Publishing date:
February 2nd 2016
Publisher:
HarperTeen
420 pages
Goodreads | The Book Depository | Amazon
In the kingdom of Lovero, nine rival Families of assassins lawfully kill people for a price. As a highly skilled member of one of these powerful clans, seventeen-year-old Lea Saldana has always trusted in the strength of her Family. Until she awakens to find them murdered and her home in flames. The Da Vias, the Saldanas' biggest enemy, must be responsible—and Lea should have seen it coming. But her secret relationship with the Da Vias' son, Val, has clouded her otherwise killer instinct—and given the Da Vias more reason than ever to take her Family down.

Racked with guilt and shattered over Val's probable betrayal, Lea sets out to even the score, with her heart set on retaliation and only one thought clear in her mind: make the Da Vias pay.

With shades of The Godfather and Romeo and Juliet, this richly imagined fantasy from debut author Sarah Ahiers is a story of love, lies, and the ultimate vengeance.

When I read the description of Assassin's Heart I immediately knew that I just have to read this one. The plot sounded so interesting and I just couldn't help myself, so I went ahead and downloaded it from Edelweiss. The sole premise: "With shades of The Godfather and Romeo and Juliet", told me I can't skip on this one. I really love The Godfather theme. Anything that relates to mafia intrigues me, and I always find books like that interesting because there is not much of them. Add to it the forbidden romance of Romeo & Julia - which is my favorite kind of romance - and you not only have me interested, you have me adding this book at the top of my TBR because I know I have to read it right away. And we shouldn't forget the whole assassinations on which the book is based. WIN!

Lea, short for Oleander, is a clipper - assassin in a modern world. She is a member of the most influential Family which ranks #1 out of 9 clipper families. They clip in the city of Ravenna, a territory which they share with their rival Family ranked #2, Da Vias. For Lea, the rivalry is not that important, as she is seeing Da Vias son Val. But still, Family comes before family. When one night she wakes up in the middle of night to find out that their home has been discovered and that they are under the attack, she tries to save the members of her Family that are still alive, but with no success. At last, she is the only live Saldana and she only has one task before her. To get revenge and kill all the Da Vias.

The author - Sarah Ahiers - did a fantastic job with world building. It is amazing how smoothly she incorporated the setting, history, religion and the little facts of the world together. The setting and the whole kingdom of Lovero reminded me of Italy so much. In my mind, I saw Yvain as Venice and Ravenna as maybe Florence or Milan. Everything was described in so many details that I wished I could live there, minus the whole clippers thing. Religion played a big role in Assassin's Heart. Clipping is done to honor the Goddess of Ravenna who grants the killed people a new life and protects the city of evil things that lurk outside the city walls. I know that probably some people will have a problem with justifying killing like a good deed, but I just look at it as a way it's done there - like our world doesn't exist.

[This paragraph contains some mild spoilers.] I loved Lea as our protagonist. She was a strong character and even if her whole world has just been shattered, she found a way to cope with it all - revenge. That was the only thing on her mind. How to survive and kill all the Da Vias. I mean, her boyfriend, assumably betrayed her to kill her and her family. She was alone with no one to turn to until she met Les, our real love interest. Even though it may seem like there is a love triangle in this book, there isn't one. Val was out of the game as soon as the Saldanas were killed. I am probably the only person who will think this, but I really hoped things with Val would turn out differently and Lea will be able to patch things up with him, but yeah. The author went in totally another direction, which I did like in its own way, I just think I would prefer the one I planned out in my own head. Les was sweet and sometimes clumsy, but he is still very dear to me.

Assassin's Heart is so far my favorite read of 2016. I love it when my fantasy books have fast pace from start to finish and there are no slow beginning or slow middle parts. In Assassin's Heart we have fast pace throughout the whole book. Some people were afraid that this book will be similar to Throne of Glass, and while I am happy it isn't, I am sure you will probably enjoy this one if you enjoyed Throne of Glass.

Are you a fan of fantasy books? Do you enjoy the theme of mafia and assassins?