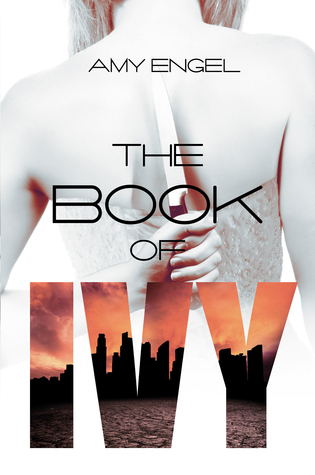 The Book of Ivy (The Book of Ivy #1)
by Amy Engel
Publishing date:
November 4th 2014
Publisher:
Entangled Teen
282 pages
Goodreads | The Book Depository | Amazon
After a brutal nuclear war, the United States was left decimated. A small group of survivors eventually banded together, but only after more conflict over which family would govern the new nation. The Westfalls lost. Fifty years later, peace and control are maintained by marrying the daughters of the losing side to the sons of the winning group in a yearly ritual.

This year, it is my turn.

My name is Ivy Westfall, and my mission is simple: to kill the president's son—my soon-to-be husband—and restore the Westfall family to power.

But Bishop Lattimer is either a very skilled actor or he's not the cruel, heartless boy my family warned me to expect. He might even be the one person in this world who truly understands me. But there is no escape from my fate. I am the only one who can restore the Westfall legacy.

Because Bishop must die. And I must be the one to kill him…

Every time I see a dystopia book, I'm kind of sceptic to read it because they all have so similar concept and I can't help but feel that I've already read something alike. I'm happy to say that it wasn't the case with The Book of Ivy. I was actually pleasantly surprised with its concept and its originality, even though it had some dystopia stereotypes. I ended up LOVING the book! Though, I think that a lot of my doubts were because of the cover. I know I shouldn't judge a book by its cover, but I can't help it. It's the first thing I notice about the book, and this cover just isn't something that would make me want to read the book. Entangled people, please re-design this cover and make a better one that would do the book justice.

After a nuclear war, two families, Westfall and Lattimer, ended up fighting for the power. Lattimers were the winners, while the Wesfalls lost. To ensure the peace between the two sides of the country, they decided to arrange marriages for their children. All girls from the loosing side should marry a guy from the winning side, and the girls from winning side should marry a guy from the loosing side. This year it is time for Ivy Westfall to marry, and none other but the son of the president, Bishop Lattimer. Unhappy with the Lattimers rule, Westfalls conspire to dethrone Lattimers, and Ivy has an important task in the mission. To kill Bishop Lattimore, her future husband. But is her family right? And, will she be able to do it?

Ivy was the kind of character who I was wary about at first, but as the book went on, I slowly began to like her. At first, she seemed cold and like she had no brain of her own. She was following whatever her family said to her and never questioned it, but later, when she married Bishop and started to see that not everything her family tells her is true, she started to question their intentions, she started thinking about it, and it's her sense of morality that made me like her in the end.
"It's doubtly important that we think for ourselves. We're not our parents. We don't have to agree with everything they stand for."
It's completely different story with Bishop. I fell in love with him straight away. I could see that he would be a good guy and I was praying Ivy would notice it too. I loved how they slowly built their friendship and trust in each other. I loved how invested Bishop was in knowing Ivy, and I loved how their romance progressed. It was the right kind of slow-burning romance.
"If I had to get married, I wanted to marry someone who I was interested in knowing. You're easy to read, Ivy, but the whole book of you is complicated. That's why I wanted you instead of your sister."
For the end, the only thing I have left to say is that you will not regret reading The Book of Ivy. Even if you're not a fan of dystopia books, I'm sure you'll fall in love with this amazing book and it'll make you flip the pages so fast you won't even notice that you read the whole thing in one go. But beware, after that ending you'll wish the next one to come out right away!

Do you like dystopia books? Would you read The Book of Ivy?